News
WI Dance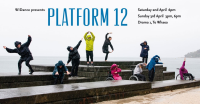 'Platform 12' is a celebration of contemporary dance works co-created by the dozens of participants of WIDance, over the group's twelve years in action.
The programme includes 'Station to Station', a reworking of a site-specific work devised for 'What if the City was a Theatre' in 2021.
'Station to Station' delves into the many experiences of a train station platform, exploring themes of long and short journeys, meetings and partings, missed trains and lost connections.
Platform 12 will also premiere an exciting new work 'I Am', which honours the individuality of each dancer, and explores integrating elements of voice, NZSL and audio description with dance to create a multi-layered piece.
'Platform 12' will have shows on Saturday 16 July at 3pm, and on Sunday 17 July at 3pm and 6pm, at Te Whaea National Dance and Drama Centre. The show runs for approximately 45 minutes, and is a relaxed event. Tickets are available from Eventbrite.
WIDance would like to gratefully acknowledge the support of Wellington Community Fund and all our supporters from our Boosted campaign earlier this year.