WIDance participating in Disability Pride Week
By Kezia Bennett
Disability Pride Week 2019 will run all over New Zealand from Monday 16 September until Sunday 22 September. In Wellington, one of the groups participating will be Wellington Integrated Dance (WIDance).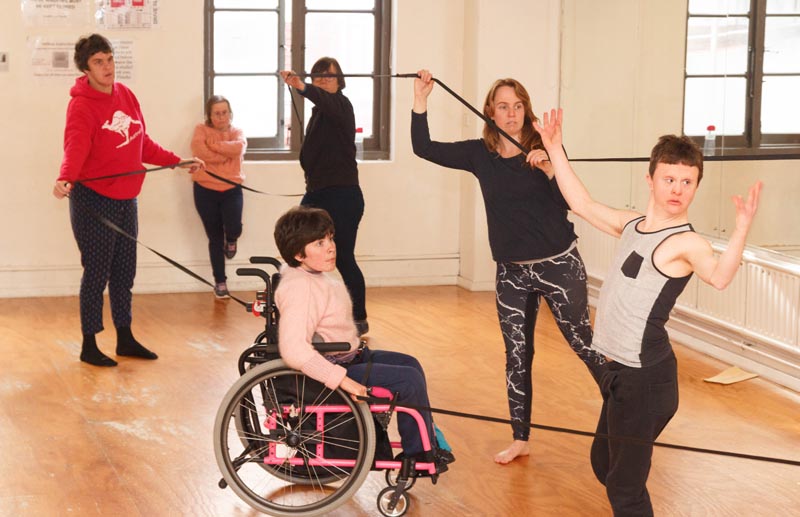 Nine members of WIDance will perform on 21 September as part of Disability Pride Week, following performances at the 2017 and 2018 Pride Weeks. The group's performance this year will see the return of the Pride line created for the 2017 Pride Week. This will feature "movements expressing and celebrating disability pride", and will involve audience participation, says WIDance tutor Sumara Fraser.
WIDance will also perform three new dance works. 'Framed' will be a structured improvisation with props, 'Weave' will be a display of different 'social circle dances' from around the world, and in their regular term-time classes the group is currently working on an as-yet-unnamed piece based around various interpretations of the poem 'Prelude', by Denys Trussell. Each of these pieces will also be developed further for events that WIDance will be doing in 2020.
Connecting and sharing ideas
Sumara says WIDance is looking forward to participating in Disability Pride Week again. "Disability Pride Week is a wonderful opportunity to bring the disability communities together to connect and share ideas, thoughts and take pride in building a strong community here in Wellington. We are proud to take part and look forward to seeing it grow in the future."
New Zealanders with disabilities constantly have to fight to truly be included in society, and that's not good enough. That's the message that the organisers of this year's Disability Pride Week want to get across.
This year's theme is Setting the Agenda. The Pride Week organisers say too often disabled people are inaccurately portrayed by a media that has small, though slowly increasing, numbers of disabled journalists, so this year's theme is about people with disabilities being the ones to decide how they want to be represented.
The organisers want the week to be a chance to start conversations about this, as well as talking about employment and education issues.
But they also want to celebrate disabled peoples' identities. "It's a chance to focus on valuing, celebrating and being proud of us as disabled people and what we have to offer. It's also an opportunity for non-disabled allies to organise events and celebrate with us.
"We want to live in an Aotearoa New Zealand where we as disabled people can be proud of ourselves and our country. We want to live in an inclusive, caring and just place where we are visible and represented on our own terms, and where disability is considered a valuable part of diversity."
For more information, visit Disability Pride Aotearoa's website.